BlockChain Asia | #13
China's "crypto dad"/Singapore's blockchain/Hong Kong's crypto industry and U.S. sanctions
This issue of BlockChain Asia covers:
China's "Crypto Dad"

Project Ubin ready for commercialization

Fast-growing Singapore's blockchain ecosystem

Bleak future for Hong Kong's crypto industry

Japanese Securities company offering crypto CFD
---
Regulations - China's "Crypto Dad" Qian Yao
In June, Qian Yao (姚前), former Director of the Digital Currency Research Institute under the People's Bank of China became Head of the Technology Supervision Bureau within the China Securities Regulatory Commission (CSRC), equivalent to SEC in the U.S.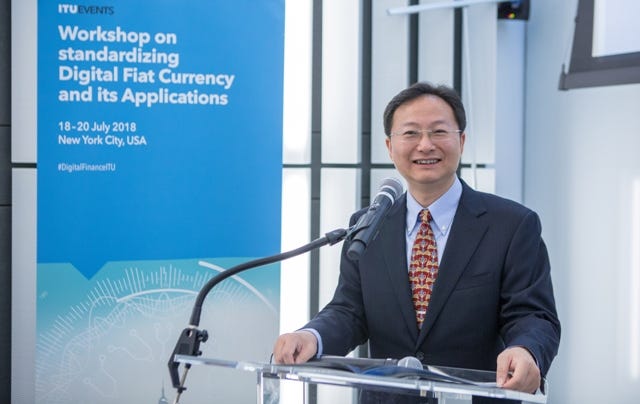 Why is this nomination important? Yao could be an advocate for blockchain/crypto assets.
First, he will lead CSRC's efforts to leverage technologies such as AI, cloud, and big data to strengthen the regulation of the capital market.
Second, given his experience in the development of China's digital currency DC/EP and in-depth knowledge of blockchain and bitcoin he will bring valuable insights into how to regulate blockchain and cryptocurrencies in China. While building out his team he may expand his territory to supervise digital/crypto assets and blockchain.
Compared with most other officials he has a positive attitude towards blockchain and bitcoin.
On July 10, Yao made a speech online. Some quotes from his speech:
The digital dollar is likely to be built on the infrastructure of Libra;
Stop copying the open source of blockchain projects developed by other people (he means non-Chinese developers). Go and do in-depth research on your own;
There are two groups of people (in China), one group is taking advantage of blockchain concept to get rich quickly, while the other frowns at the mentioning of blockchain and inevitably associates it with scams.   
Blockchain development
MAS and Project Ubin
The Monetary Authority of Singapore (MAS) announced the completion of the fifth and final phase of Project Ubin - a blockchain-based multi-currency payments network developed by Temasek. J.P. Morgan assisted with the testing of more than 40 financial and non-financial companies to see how well it can be integrated with their blockchain applications. Project Ubin is ready for commercialization. Link
Singapore's blockchain landscape
Through mapping out the blockchain landscape, the data suggests 91 more companies have joined Singapore's blockchain ecosystem in 2020, 50% growth over 2019. Link
Potential U.S. sanctions on Hong Kong casting shadow on its cryptocurrency market
U.S. Congress has passed a bill to impose sanctions on Chinese officials who supported the National Security Law and on banks and firms who do business with them. The bill is waiting for Trump to sign. If Trump signs the bill, Hong Kong's financial market could be disrupted, including its cryptocurrency market.
Because of its proximity to the Mainland, Hong Kong has been favored by Mainland China's crypto industry for its more friendly regulations. The sanctions may delay money transfer between banks, which then imposes challenges to trading and other transactions. In the past year or so, more blockchain/cryptocurrency companies have chosen Singapore over Hong Kong as their beachhead in Asia. Link
Japanese Securities firm offering crypto Contract for Difference (CFD)
Monex Securities, the subsidiary of Monex Group, a publicly-traded Japanese financial services firm, becomes the first to offer crypto CFD (BTC/yen, ETH/yen, XRP/yen, BCH/yen) with 2X leverage. Monex Group also owns the exchange Coincheck. Link
Stay safe and healthy
~ Coco
---
Blockchain Asia covers exclusively blockchain and crypto & digital asset developments in Asia, including regulations, investments, new deals and company highlights. It is owned by Kee Global Advisors. For previous posts, please visit here. For any inquiry, please email insight@keeglobaladvisors.com